---
English Sheelas (visited July 1995)
In 1995 I visited my Auntie Pat and Uncle Ron in Swindon in Wiltshire and got them hooked on sheela-na-gigs. Ron and Pat are the freest spirits in my extended family, and have a love of history, antiques, travel and erotica (not necessarily in that order!). We drove around and visited all the sheelas in their area, and I am delighted to hear that they now proudly bring many of their own visitors to see these local treasures!
---
Oaksey sheela, Wiltshire, 10 miles SSW of Cirencester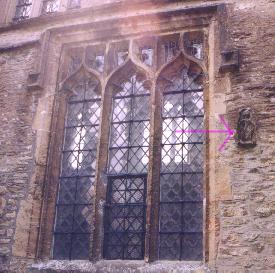 The Oaksey Church sheela is the most dramatic figure of the four English sheelas I have seen. She stands prominently on the outside wall of the church, near the window (as shown). Unlike many sheela-na-gigs, she has large, pendulous breasts which seem to hang down out of each armpit. Her pudenda and vaginal opening are enormous, and hang down nearly to her ankles. It looks to me like there might be something inside her womb, but the figure is too weathered to tell.
---
Kilpeck sheela, Herefordshire, Church of St. Mary and St. David
The Kilpeck sheela-na-gig sits high on a quoin on the splendid Church of St. Mary and St. David. Her hands are passed around her legs, displaying a large and open vulva. She is bald, and has large, beady eyes, surrounded by circles that give the appearance that she has stayed up all night. Unlike most sheelas, which look glum or even ferocious, the Kilpeck sheela has a small but friendly smile.
When sheela-na-gigs are depicted in the media, on t-shirts or on websites, it is most often the Kilpeck sheela that is used as an illustration. Perhaps because of her simple lines and mysterious smile, this particular sheela seems to be a favorite among artists.
When I visited the Church of St. Mary and St. David, Miss Sheela had to compete with many other fascinating architectural features for my attention and filmspace. For further information on the features of this spectacular church, please see this Herefordshire site. I'm including a shot of the church's famous door below, as well as my less famous (but equally fabulous) aunt and uncle.
I purchased a small leaflet inside the church, which turned out to be a reproduction of a guide to the corbels of the church, written by George Lewis in the 1840's. I found it fascinating that the Victorian author "sanitizes" the sheela in his drawing and description. He illustrates the figure as a man with a hole in his chest, and writes "the cut in his chest, the way to his heart, denotes that is always open and to all alike". Now some sheelas are quite worn and it would be easy to misinterpret them, but the Kilpeck sheela is so well-preserved, and so clearly an exhibitionist figure, that Lewis' writings are certainly a Victorian attempt to gloss over this overtly explicit figure on his beloved church.
Many visitors have written about their sheela experiences in the guestbook of the church. My favorite comment was "I love you sheela-na-gig! Lesbians are everywhere!"
---
Ampney St. Peter Sheela, Gloucestershire, 6 km E of Cirencester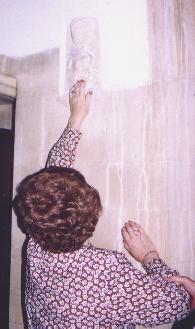 The Ampney St. Peter Sheela is located inside the church, above the baptismal font. Its weathered appearance leads me to believe that it used to be outside somewhere, but I can find no reference to this in any of the literature. The lower half of the figure is broken off, again, I cannot tell if it was broken when it was moved, or if the "offending parts" of the figure were intentionally removed before it was placed inside the church. I'm including a closeup as well as a shot of my aunt rubbing the figure for luck. The second photo gives you a good idea of the scale of the figure.
---
Bray sheela, Berkshire, inside the Church of St. Michael
The Bray sheela was the most disappointing of the figures I saw in England. My uncle and I stopped into the Church of St. Michael on the way from Swindon to Heathrow on the day of my departure, so time was tight. When we arrived at the church, there was a funeral in progress, so we couldn't exactly go poking around taking pictures of naked women sculptures while the dead person was being eulogized. We hung around and dashed in when the procession was over, and could only find a nearly completely destroyed headless figure in the area described by Anderson. I hope that we were just looking in the wrong place in the church, and that this sheela is still intact. If anyone has a shot of this figure, I would love to see it--there no good photos in any of the sheela-na-gig books I have seen.
---
Return to Sheela-na-gig page
© copyright 2000 Tara McLoughlin