---
Kiltinan Sheela, Kiltinan Church, Co. Tipperary, 11km N of Clonmel and 5.8 km SE of Fethard (site visited May 1994)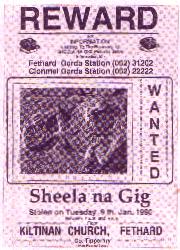 After a fruitless search of every inch of the ruins of the Medieval Church near Kiltinan Castle, I flagged down a farmer passing on a tractor, and learned what the locals had known since 1990--the Kiltinan Church Sheela had been stolen!
Through the actions of a few vocal members of the Fethard Historical Society, a large scale search for the figure was launched (please see photo of "wanted" poster). James O'Connor outlines the search, as well as the history of the other local sheela-na-gigs in his book "Sheela na gig" (See Bibliography for more information).
The figure was never found, but a replacement figure was carved by O'Connor and erected in the original location. I think I remember reading that then President of Ireland Mary Robinson officiated at the dedication, but I will have to check this...
This theft illustrates the peril that sheela-na-gigs in situ face from vandals and profit-hunters.
---
Return to Sheela-na-gig page
© copyright 2000 Tara McLoughlin