---
Malahide Abbey Sheela, Malahide, Co. Dublin, on the ruined church on the grounds of Malahide Castle (visited May 1994).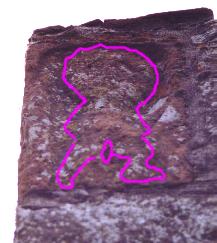 Malahide Castle is only about 5 miles from my aunt and uncle's house in Raheny, a northern suburb of Dublin. I have been to Malahide town many times growing up, antique-ing with my mom, sunning myself on the strand (on the rare sunny day) and drinking with my cousins in the town's lively pubs. I have also toured the castle often, and my antique dealer aunt even donated some period costumes that are on display there. Imagine my delight when I learned that there was a sheela-na-gig in Malahide!
The sheela is alas, very worn and barely recognizable. I have outlined the figure in this shot to make her easier to see. Anderson notes that there was another figure on this church, but it was broken off at the neck, the victim of either the elements or vandalism.
---
Return to Sheela-na-gig page
© copyright 2000 Tara McLoughlin