---
Moate, Co. Westmeath, (Visited May 1994 and November 1998).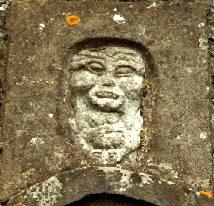 This sheela is on the back gate of the wall behind the modest castle, now used as a farm and residence. It is accessible behind the little row of shops. Go to the back of the pub's parking lot, walk up the embankment, bear left, cross a little creek, and the wall with the sheela is on your left. She is above a door that was painted green on both of my visits.
The measurements of this figure are incorrect in Anderson's book. Thankfully, this sheela is much bigger than Anderson estimates, probably about 12cm, not 3.35 cm.
This sheela is small in size, and has one eye half shut, perhaps as a protection against curses such as the evil eye (?) I made a crude rubbing of this figure on my first visit, and it served as the inspiration for my first (and last) tapestry (photo below), made during a week-long tapestry course at Oideas Gael in Glencolumbkille, Co. Donegal.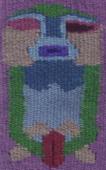 ---
Return to Sheela-na-gig page
© copyright 2000 Tara McLoughlin